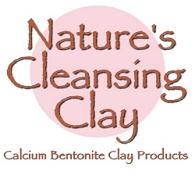 After using and benefiting from the 'Living Clay' , I launched my website in December 2007 with the purpose of providing quality 'Living Clay' products to benefit others as it had done for me. I also pledged to provide them at a savings and with the personalized customer service that I felt like was lacking with so many of today's companies.
With Patty's support and agreeing it would be a good idea , Natures Cleansing Clay was born and continues to grow and provide the many fine products all over the world and continues to hear from customers about how the clay has helped them and also how much they appreciate the savings and the customer service.
My supplier started out as the 'Living Clay' Co and they were acquired in June 2015 by the Nutraceutical Company who has acquired some of the most respected health and nutrition brands in the country, making 'Living Clay' a perfect fit. Nutraceutical discontinued Living Clay August 2021 and am proud to have a new Clay supplier ! SAME Clay- SAME Mines - New Label 'Head to Toe' Detox Clay Powder! A & M Health Products is owned by Zack and Perry A~ and received my first order Feb. 2022. Zack and Perry A~ have plans on expanding the Clay product line as things progress. Excited to have them supplying me Clay!
Below are just a few pics for those of you that wish to put some 'visualizations' into place and see who you are doing business with.
I hope to stay small enough to continue to provide you with the quality products at affordable prices and with the personalized customer service that you deserve!